Production and Technology
Production Process
High Quality Products Respecting Mankind and Environment.
Norman Group, with its 7 divisions and a production of 14 million seamless items, boasts nowadays a remarkable position in the mentioned field. Our production is based on a vertical and flexible process: each step – from yarns to finished product – is organized and controlled through various tests which guarantees high quality and the absence of toxic substances for people and environment. Production in each division of Norman Group is regulated in order to respect human rights and environment.
High-Quality Raw Material for Innovative Products.
Norman Group constantly researches innovative raw materials and high-quality yarns, looking for international partnerships and filing advanced patents. With the collaboration of the worldwide most important producers in this field, Norman Group uses innovative yarns as Fulgar, Lycra-Invista, Creora-Hyosung, Ashay Kasey, Dryarn, Borgolon, Meryl Fibers, Nytex, in addition to precious microfibers and natural fibres as cotton, bamboo, wool and viscose. All these raw materials perfectly suit production requirements of the Company and experimentation to develop single items or complete collections more and more refined. Seamless technology keeps on innovating and specializing: this allows Norman Group to be even more competitive, never failing in respecting Italian and European standards, certifications and regulations.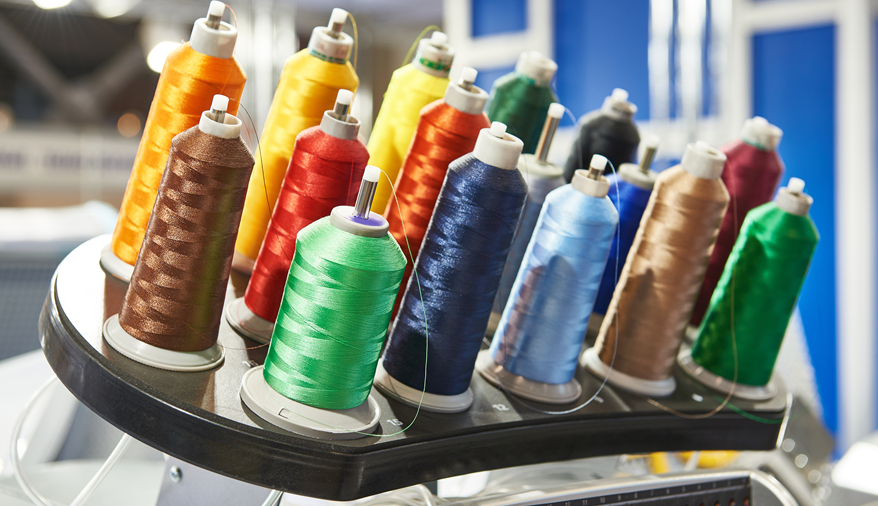 Productions Steps.
Production of seamless items in Norman Group follows different steps which undergo strict quality tests.
Knitting
This step takes place in the new knitting room which can count on 168 advanced circular SANTONI machines, from 13" to 20".
Raw Product Ironing and Control
This operation is carried out internally, piece by piece, through automatic machines with infrared rays specifically studied by Norman Group.
Dyeing
The dyeing step takes place in the dye-works owned by the Company. This process is monitored with the utmost care and attention: all the dyes and softeners must fully comply with the Oeko Tex standards to safeguard consumers health and environment.
Sewing
This step is carried out internally in the workshops owned by Norman Group situated in Czech Republic, Romania and Serbia.
Dyed Products Ironing
During this phase front and back of each piece is controlled using automatic CORTESE 832 machines equipped with steam process.
Printing
For this operation Norman Group employs a transfer printing press MONTI. All-over printings are realized with superb quality results thanks to a printing system developed by the Company itself.
Labelling
Each item is provided with a transfer labelling, which does not need any sewing and efficaciously resists to washings.
Packaging
Depending on the different requirements, each item is packed in a little box, in a transparent envelope or set on a hanger. After applying the corresponding barcode, each product is ready to be shipped.
Patents and Special Finishings
I-SOFT Patent
I-SOFT is the revolutionary patent by Norman Group which revolutionizes the technical fibers application in seamless technology. It's a thermal treatment which can be applied to any kind of fabric and provides it with a warm and soft touch, comparable to natural fabrics.
I-SOFT does not modify the functional and technical features of the fabrics which is applied to; instead, it gives them a warm sensation due to the fleece effect which creates an isolating and thermoregulating barrier to maintain constant the body temperature and humidity. Moreover, I-SOFT increases item performances in terms of thermoregulation, humidity absorption and breathability. Fabrics with I-SOFT treatment maintain their features during the whole item life: differently from usual treatments, indeed, I-SOFT modify the fibers and for this reason they don't lose their characteristics because of washings or frequent use.
To guarantee the best result, I-SOFT treatment is applied to the internal part of the product – the one in contact with the skin – to provide an effective isolation. Norman Group successfully apply this treatment to t-shirts, leggings, sportswear and generally to all that products to put in contact with the skin in case of cold temperature.
I-SOFT advantages
Applicable to any kind of fabric
Fabric performances unchanged in time
Maximum softness
Warm touch
Comfortable on the skin
COMPARISON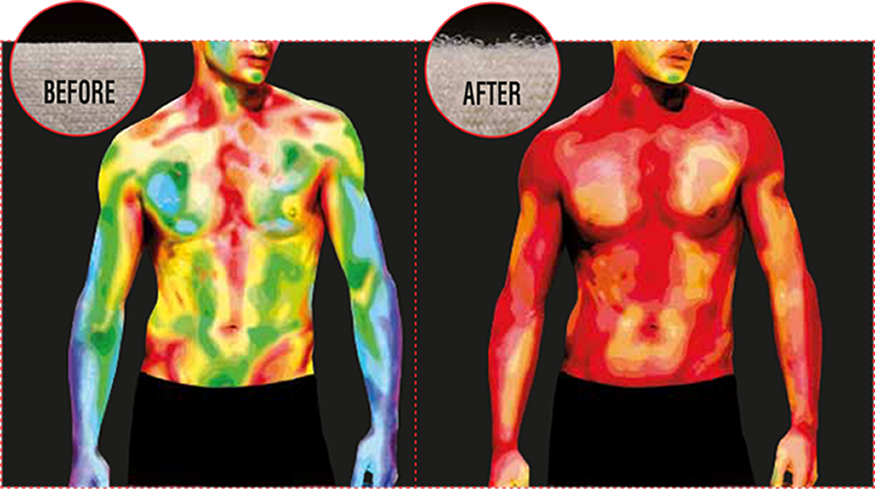 I-BAND Patent
I-BAND is the innovative patented finishing which changes the distribution of items fabric in order to enhance their performance: this manufacturing shapes and supports the product and, applied instead of the usual waistband, it improves adherence and wearability of seamless items. The application of this patented finishing modifies the fabric distribution of the tubular maintaining unchanged design and features of the product: while with traditional waistband front and back part of items are made with the same quantity of fabric, the realization of products with I-BAND employs more fabric in the back part, improving the general wearability of the item.
I-BAND can be applied to any kind of product, from tops to t-shirts, to leggings and briefs, sportswear, but also basic or shapewear products. Wearability obtained thanks to this finishing remains unchanged during all item life and resists to frequent washings and use.
I-BAND advantages
Improved performances
Improved wearability
Applicable to any fabric
Performances unchanged during time
COMPARISON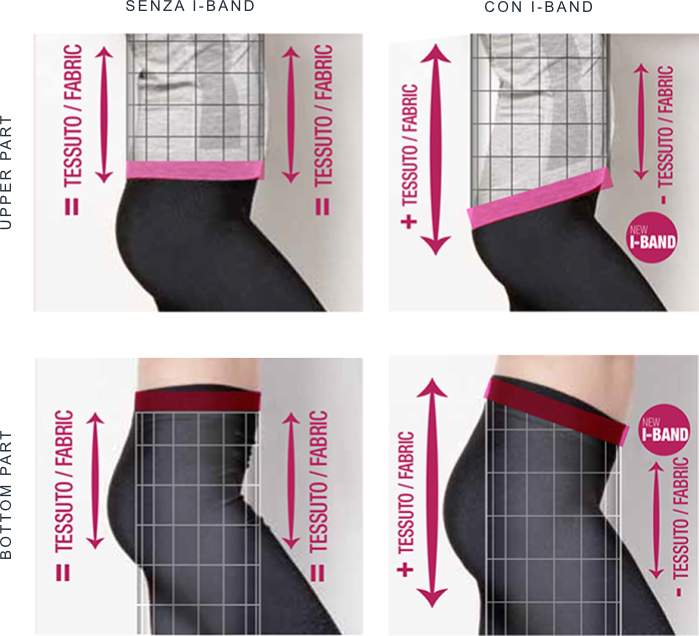 Special Finishing
In addition to usual treatments, Norman Group offers a wide range of particular manufacturings and special finishings.
Particular manufacturing
Le Particular manufacturing includes: a special system for bonding finishing, characterized by the total absence of sewing that makes edges ultra-flat, invisible under garments and extremely elastic; an anti-slip system created with silicone, adherent and elastic, which can follow fabric movements without breaking; unlimited application of prints through heat transfer print, from small inserts to a wide range of localized or all-over prints.
Special finishing
Available special finishing proposed by Norman Group includes waterproof treatment, which guarantees excellent performances maintaining unchanged the texture, and perfumes treatment, that is the application of microencapsulated essences which gives garments a pleasant and long-lasting perfume.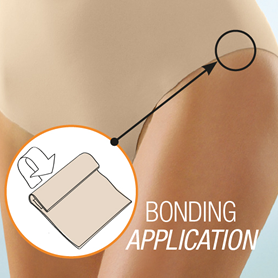 Bonding
Invisible finish through heat-sealed adhesive film.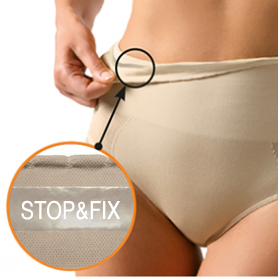 Stop&Fix
Silicone tape applied inside the strap which guarantees adhesion and anti-roll of the chief.
Quality and Certifications
An Ethical Production of High Quality
Norman Group follows an ethical production process which guarantees the respect of fundamental rights of workers but also of environment. In this way, the Company can offer innovative products of high quality, but also ethically correct, since they're realized respecting principles of moral legitimacy, equality, parity and transparency to protect mankind, health and environment.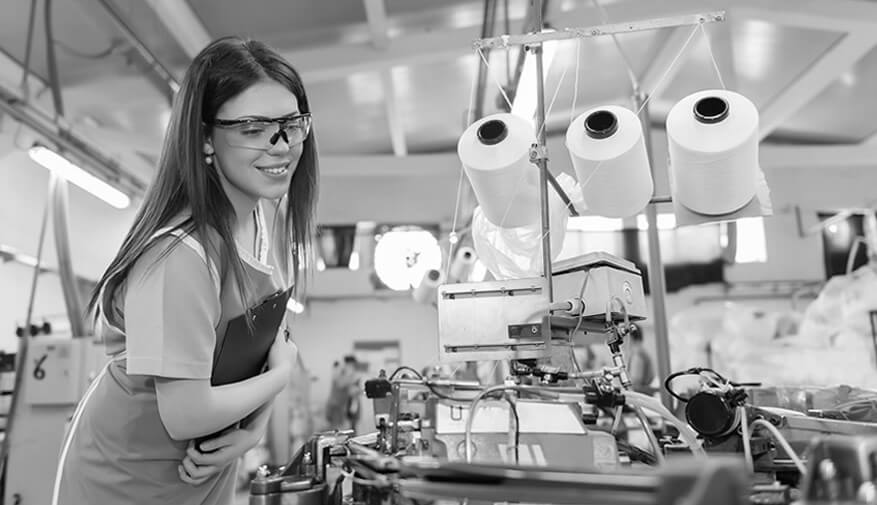 In particular, Norman Group
Produces respecting human and workers rights. The Company doesn't exploit child labour and respects workers safety, healthiness of workplace, minimum wage and working time.
Pays extreme attention to quality of products, testing colour fastness, resistance to washings, perfect wearability. The Company can count on a dedicated Quality Control team that guarantees the respect of the highest quality levels.
Avoids the use of toxic substances which could damage people and environment and continuously tests its products to assure the total absence of damaging elements.
Employs exclusively certified raw materials and accessorizes and eliminates production and industrial waste following strict rules for the environment respect.
Applies the highest ethical and environmental standards based on moral legitimacy, equality and parity, transparency, honesty and impartiality to protect workers, their health and work place.
Environment
Attention to Environment for an Eco-Friendly Production.
Norman Group has lately made important investments in environment sustainability. In particular, the headquarter in Castel Goffredo (MN) is provided with a Led lighting system which guarantees a remarkable energetic saving. Dyeing and finishing departments count on a new generation furnace that allows to save gas for the production of steam and hot water. Moreover, Norman Group is introducing a new dyeing technique that can save the 40% of water compared to the current annual consumption of 150.000 cubic meters. Lastly, knitting machines are studied to recover energetic and thermal resources, reducing energy used for heating.
Our Commitment in Favour of the Environment.
Use of recycled paper packaging.
Reduced direct/indirect emissions in air and water.
Reduced water consumption.
High efficiency in energy use.
Use of the greatest technologies available on market.
High efficiency in waste recycling.
High efficiency in recycling water of production.
Educated staff.
Transparency during production steps.